With only 6 days until the 123rd Boston Marathon, We recognize the importance of this event as it is one of the oldest established annual marathons in the world, but also the difficulty that every prospective runner must face from start to finish. The Boston Marathon is a race that celebrates adversity, determination, and perseverance that is necessary for each runner to complete this grueling course. However, for some, the events of April 15th, 2013 have given this event an entirely new meaning.
To most people, finishing the Marathon provides an overwhelming sense of pride, it is an accomplishment that many runners strive to achieve year after year. For others, through one reason or another, it is an opportunity for goodwill and charity by supporting a cause that is close to the heart.
This year the Boston Police Foundation is fortunate enough to have 2 incredible individuals dedicating their run to back up Boston's Finest, Michele Lee, and Gavin Soderberg.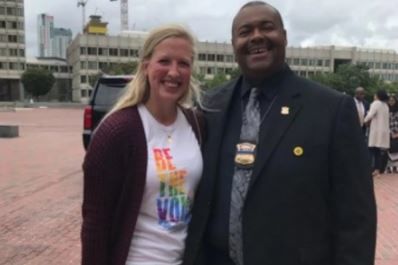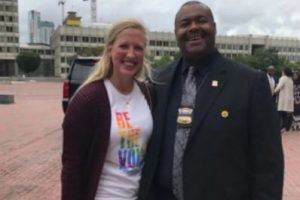 Michele Lee:
Michele is no stranger to having a loved one in her life that was dedicated to protecting those in need. Her father Sgt. Keith C. Lee was a law enforcement officer at Ithica College for 25 years. Sgt. Lee dedicated his life to ensuring the safety of others but we do not realize the toll it takes on those behind the badge. This Marathon, Michele runs for her father and all those that have lost the battle to suicide & depression.
"Resources like these are critical in supporting police officers and the benefit can be life-saving. My goal in fundraising for the Boston Police Foundation is to support initiatives that can prevent other families from losing their loved one in uniform and of course, to honor my hero." -Michele Lee
To Support Michele's cause, please click here
Gavin Soderberg and his wife were present at the 2013 Boston Marathon. While neither was a participant of that specific race they bore witness to the heroism and duty that civilians and the Boston Police displayed throughout that day. Gavin is an avid runner, and for any runner, the Boston Marathon is high on the bucket list. This year Gavin will take on the challenge, to raise money for a good cause & complete one of Bostons toughest road races.
"The foundation not only goes towards training, which was clearly displayed that day, but also infrastructure, supplies and various youth outreach programs, including suicide prevention." -Gavin Soderberg
To Support Gavin's cause, and learn more about his experience please click here
The Boston Police and the Boston Police Foundation work closely to ensure that every officer has the support they need to continue in the line of duty. Whether it be standard equipment that an officer may need at a moments notice, to funding for outreach programs and suicide prevention. For more information on where donations go, and how every little bit counts, please visit our Programs Page.